On March 14, 2012, Dr. Richard Young gave a presentation to help counsellors understand and support clients who are suicidal. More specifically, he explored: How clients conceptualize suicide attempts and the suicidal experience The agency of the client Listening effectively Best practices around suicide assessment in a non-psychiatric setting (e.g. counselling setting) For over a […]
The Peer Project research team, a study investigating youths' joint projects in the transition to adulthood, are (clockwise) Amy Green, Dr. Richard Young (PI), Dr. Sheila Marshall (Co-I), Krista Socholotiuk, Emily Polak, Leah Wilson, Laura Klubben, and Sophie Zhu...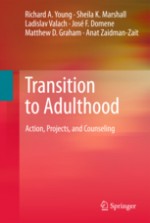 Transition to Adulthood: Action, Projects, and Counseling (2010) by Richard Young, Sheila Marshall, Ladislav Valach, José Domene, Matthew Graham and Anat Zaidman-Zait is now available from Springer. This book looks at the complex, ongoing process of the transition to adulthood as a series of goal-directed actions; that is, as intentional goals undertaken by youth individually […]
Contextual Action Theory was recently featured on the "Careers – in Theory" blog from The Careers Group, University of London. Post author David Winter thoughtfully reflects upon and suggests some practical applications of Contextual Action Theory. Visit the post at the "Careers – in Theory" blog to read more.